He Reo Kōmanawa: images to inspire teaching and learning te reo Māori
By using this site, users agree to abide by the conditions of use.
| | |
| --- | --- |
| He kupu tawhito te kōmanawa. | "Kōmanawa" is an ancient metaphor. |
| Ko te kō, te tangi a te manu, | The sounds of birds, |
| Ko te kō, te tangi a te ngākau. | The song of the heart. |
| Ko te kō, te whakaihiihi i te manawa. | It is the very essence of the message. |
| Te whakaauaha i te ngākau ki te whakaaro. | It energises the soul and inspires the mind. |
| Te whakaangi i te wairua kia rere. | It releases the spirit to soar. |
| "He Reo Kōmanawa" tenei. | This is "He Reo Kōmanawa". |
He Reo Kōmanawa: Images to Inspire Teaching and Learning Te Reo Māori is one of a group of resources for teachers of te reo Māori. These resources are intended to support and inspire teachers as they use Te Aho Arataki Marau mō te Ako i Te Reo Māori - Kura Auraki/Curriculum Guidelines for Teaching and Learning Te Reo Māori in English-medium Schools: Years 1-13 to design school and classroom curriculums that will meet the particular needs, interests, and talents of their students.
He Reo Kōmanawa presents a group of digital images from the collection at Te Pātaka Matihiko, Our Digital Storehouse (Digistore). It also presents one possible framework for designing sequences of teaching and learning tasks that are linked to the images and that enable students to work towards some of the achievement objectives for te reo Māori. It then presents ten examples of teaching and learning sequences that are based on this framework. The purpose is to familiarise teachers with the levels of the te reo Māori curriculum and to model the suggested framework and some possible language learning tasks. The framework and the tasks are consistent with the principles and understandings about effective language teaching and learning that are described in the curriculum guidelines.
The images
Image: Wakahuia (treasure container), c1700s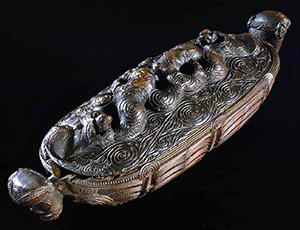 Acknowledgements
Copyright: Reproduced courtesy of the Museum of New Zealand Te Papa Tongarewa
Creator: Unidentified
Identifiers: Museum of New Zealand Te Papa Tongarewa number OL000003
TLF resource R6120
Source: Museum of New Zealand Te Papa Tongarewa,
http://www.tepapa.govt.nz
The digital content for He Reo Kōmanawa was developed by the Ministry of Education using digital images of objects from the Museum of New Zealand Te Papa Tongarewa collection available through Digistore. A selection of 123 images have been included in this resource. Each image is accompanied by a description that provides such details as the artistic medium, the creator (if known), and the historical, political, cultural, and/or environmental context. The images open up exciting opportunities for teaching Te Reo Māori in meaningful and culturally appropriate contexts. They offer a stimulus for speaking, listening, reading, writing, viewing, and presenting information in te reo Māori about a wide range of topics relating to New Zealand life in the past and present.
For teachers' convenience, the images are loosely grouped under subject categories. However, many of the images could be classified in two or more categories. Teachers will see many different ways of using the images to enhance their teaching programmes. By taking time to browse through the full collection, teachers will get an overall appreciation of its richness.
Accessing the images
The digital resources can also be accessed online through Digistore. All New Zealand schools are entitled to free access to the digital content on Digistore. To do this, register online at the Digistore site. Teachers can go to the site to check whether their school is registered. For more information on using these images, please click on this link.