ImageTeaching and learning sequenceAdditional tasks and activities
---
Sample Task Sequence 6: Haka and poi championships, 1928
Digital resource from the Te Papa Collection
Image: Haka and poi championships, 1928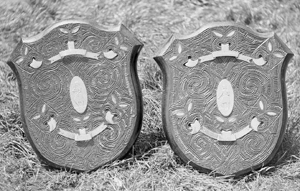 Acknowledgements
Copyright: Reproduced courtesy of the Museum of New Zealand Te Papa Tongarewa
Creator: Leslie Adkin, photographer, 1928
Identifiers: Museum of New Zealand Te Papa Tongarewa number B.022172. TLF resource R6473
Source: Museum of New Zealand Te Papa Tongarewa,
http://www.tepapa.govt.nz
Students should be able to:
5.1 communicate about past activities and events;
6.3 communicate about immediate plans, hopes, wishes, and intentions.
Links to other learning areas
The arts (Performing arts)
Te reo Māori text
Te wahanga tuatahi
Ko tēnei te taonga i whakaaetia e ngā rangatira kia riro e te rōpū kapa haka ka toa ana i te whakataetae. I whakairotia tēnei taonga, ā, ka kitea hoki i ngā āhua o ngā tiki e ono e whakaatu mai ana. Piri ana hoki ki taua taonga ētahi ripene ātaahua.
I whakaritea te mahi o te kapa haka kia pupuri tonutia e te iwi Māori ngā waiata tawhito, ngā waiata ā-ringa, ngā mahi poi, me te ihi o te haka tāne hoki.
E kīia ana te kōrero, i tīmata ngā whakataetae kapa haka i tērā rau tau. Ka tukuna tēnei mahi ki ngā rōpū katoa huri noa i Aotearoa. Mai i tērā rau tau ki tēnei wā kei te whakangahau tonu mai tēnā rōpū, me tēnā rōpū.
Te wāhanga tuarua
Ahakoa mā te pakeke tēnei momo whakataetae i te tīmatanga, i ēnei rā ka whai wāhi ngā tamariki o ngā kura katoa o Aotearoa. Ka whakataetae ngā tamariki o te kura tuatahi, ngā rangatahi o te kura tuarua i ia tau, i ia tau. Ka whakataetae ngā pakeke i ia rua tau.
Mīharo ana te tangata ki te whakarongo ki ngā waiata. Ka kitea te whiu o ngā poi, ka wani kē ki te rara o ngā piupiu me te whatiwhati o ngā hope. Ā, ka tumeke ki ngā tāne e whētero mai ana ngā arero, me te pūkana o ngā whatu.
Whakarongo ana hoki ki te patu kaha o ngā ringaringa ki ngā uma, ki ngā kūwhā hoki. Auē, auē, auē! Hi ha, hi ha!
Ka mau te wehi!
Teaching and learning sequence
This teaching and learning sequence diverges a little from the 10-step general framework but includes all the essential elements of input in te reo Māori that the students are able to comprehend, productive student interaction, the development of strategies, and the repetition of new language forms. As with the others, the teacher decides on the appropriate times to share the intended learning outcomes with the students and negotiate success criteria with them. The teacher and students discuss these throughout the teaching and learning sequence.
1. Viewing of image
The students view the image: Haka and Poi Championships, 1928.
2. Pre-reading discussion
The students work in pairs or groups of four, discussing the image and sharing their own knowledge and experience of kapa haka competitions. They consider the different categories, their school or club's participation, triumphs and disappointments, the skills learned and teamwork experienced, as well as plans and expectations for the future. The teacher records key new te reo Māori vocabulary to create a class word bank.
3. Reading te reo Māori text
This text has been designed as a split information task. Half the class is given a copy of te wahanga tuatahi and the other half is given te wahanga tuarua. At the beginning of the task, the students are seated with others who have the same part of the text. They read silently, but are free to discuss any areas of difficulty within same-text groups. They may use a dictionary to assist with any words they are unable to guess from context and to confirm guesses after the reading.
Each student makes a mind map summarising key information. They will use this as speaking notes when they share the information with a student from the other group.
4. Pair interactive task
When the students in both groups have finished reading their text and making their mind maps, each student pairs up with a student from the other group. They then take turns to tell each other the information they have just read, using their mind maps as speaking notes. The teacher tells them not to read from the text or look at their partner's text, but does encourage them to ask their partners to repeat or rephrase information when necessary.
5. Teacher clarification
After the reading and sharing of information, the teacher draws attention to new vocabulary and grammar and clarifies any remaining uncertainties.
6. Pair mind mapping
Working in their pairs, the students make a joint mind map about kapa haka competitions, combining information from the text with recounts of their own experiences of kapa haka. The teacher circulates, helping with vocabulary and encouraging the students to kōrero Māori. This mind map is kept safe, as it will be used later, with additional information, in the presentation.
7. Inquiry
The pairs of students discuss the various aspects of kapa haka and decide what category to focus on for their inquiry and presentation. This could be waiata tawhito, waiata-ā-ringa, poi, haka, or waiata karakia. Each pair of students forms a written question on which to focus their inquiry. Questions relating to waiata or haka from their own iwi or local area would be particularly appropriate. Each student then makes an inquiry plan that identifies how they will seek answers to their question. This might be through reading (using the library or Internet), museum visits, or interviewing whānau members or kaumātua. While the teacher provides support and oversight, the students undertake at least part of their inquiries for homework. They make written notes in which they record keywords and simple sentences in te reo Māori, and they bring these notes to school.
8. Preparation of information for presentation
The pairs of students pool their information and discuss how their findings can best be presented for other class members. The presentation should include oral and/or written information resulting from the inquiry, plus an element of performance. This could be anything from the singing of a waiata tawhito to the performance of an original waiata, poi, or haka. As the students collaborate on their planned performance, the teacher circulates, encouraging them to kōrero Māori and assisting them with their preparations where needed.
9. Presentation
The students make their presentations to another pair or a small group of students. The presentations begin with a brief introduction, in te reo Māori, about the waiata, poi, or haka to be presented, including its history, composer, and origins.
10. Reflection
The students have 10 minutes to reflect individually on what they have learned from this cycle of learning. They briefly record the following information in te reo Māori:
Tuhia ngā kupu hou. (List the new vocabulary you learned.)
Tuhia tētahi whakaaro hou i akongia e koe. (Write one new thing you learned from your own inquiry.)
Tuhia tētahi whakaaro hou i puta mai i tō hoa mahi. (Write one new thing you learned from your partner.)
Additional tasks and activities
Depending on their students' needs and interests, teachers may like to select from some of the following tasks and activities:
Teach another pair or group your waiata, poi, or haka.
Continue inquiry into waiata, poi, and haka from your own iwi or district, and learn at least one more.
Make waiata charts for use in kapa haka.
Organise a class concert to perform for the school or for parents.
Design a taonga suitable as a prize for a kapa haka competition and prepare a speech for the winning team.