ImageTeaching and learning sequenceAdditional tasks and activities
---
Sample Task Sequence 7: Ōtaki church renovations, c. 1947
Image: Ōtaki church renovations, c. 1947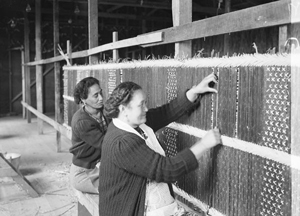 Acknowledgements
Copyright: Reproduced courtesy of the Museum of New Zealand Te Papa Tongarewa
Creator: Walter R Oliver, photographer, c1947
Identifiers: Museum of New Zealand Te Papa Tongarewa number B.002799. TLF resource R5110
Source: Museum of New Zealand Te Papa Tongarewa,
http://www.tepapa.govt.nz
Students should be able to:
5.1 communicate about past activities and events;
5.2 communicate about past and present states, feelings, and opinions.
Links to other learning areas
History, the arts (visual arts)
Te reo Māori text
Te wāhanga tuatahi
I te hokinga mai o Te Rauparaha, te rangatira o Ngāti Toa, ki te wā kāinga, ka huri ia ki te manaaki i tōna iwi. Kua mutu hoki tana whai riri. Kua huri kē ia ki te whai i rangimārietanga o te atua hei oranga mō tōna iwi. Nōna te whakaaro me pēhea e taea ēnei tikanga.
I taua wā tonu kua nui hoki ngā hāhi huri noa i Aotearoa. Nā tana whakahoatanga ki ētahi Mihinare, ka tautokona te hāhi Mihinare e ia.
Ka haere a Te Rauparaha ki Ōtaki, ki waenganui i ōna whanaunga a Ngāti Raukawa. Ko tāna he kōkiri i tōna kaupapa, arā, te hanga i tētahi whare karakia tino motuhake hei mīharo ki te atua, hei maumahara hoki ki ngā iwi Māori katoa.
I tētahi whenua tapu i Ōtaki ka hui tahi a Te Rauparaha rāua ko Te Pohotīraha, te rangatira o Ngāti Raukawa. Nā tō rāua wānanga tahi ki te whakatū he whare karakia, ka whakaaetia e Te Pohotīraha rātou ko te iwi o Ngāti Raukawa.
Te wāhanga tuarua
Nā Ngāti Toa rātou ko Ngāti Raukawa, ko Te Atiawa i kawe ngā mahi hei whakatū i te whare karakia. I tapaina taua whare karakia ki te ingoa, Rangiātea. I oti pea te whare nei i te tau 1851. I taua whare ka kitea ngā mahi toi a te Māori. Arā, te mahi whakairo, te mahi raranga, te mahi kōwhaiwhai, te mahi tukutuku hoki.
I te whakaahua nei ka kitea ngā wāhine tokorua e mahi ana. Ko te tau 1947 tēnei. E āwhina ana rāua ki te whakatikatika haere ngā tukutuku kua tāwekoweko, kua tawhito hoki.
Ahakoa i tahuna tēnei whare ātaahua ki te ahi i te tau 1995, i hangaia anōtia. He whare ātaahua hoki. Nā rēira, he mihi nui ki a Te Rauparaha rāua ko Te Pohotīraha, nō rāua te whakaaro kia whakatūria tēnei whare ātaahua. He mihi nui hoki ki ngā tāngata i tū pakari kia ara ake anō ngā whakapono kei roto i te iwi Māori.
"Hinga ana te poupou, tū ana ngā poupou e rua."
Teaching and learning sequence
When appropriate, the teacher shares the intended learning outcomes with the students and negotiates success criteria with them. The teacher and students discuss these throughout the teaching and learning sequence.
1. Viewing of image
The students view the image: Ōtaki church renovations, c. 1947.
2. Pre-reading discussion
The students work in pairs, discussing the image and sharing their ideas about the work the two women are undertaking and what it will be used for. The teacher records key new te reo Māori vocabulary to create a class word bank.
3. Reading te reo Māori text
This text has been designed as a split information task. For this task, half the class is given a copy of te wahanga tuatahi and the other half is given te wahanga tuarua. At the beginning of the task, the students are seated with others who have the same part of the text. They read silently, but are free to discuss any areas of difficulty within same-text groups. They may use a dictionary to assist with any words they are unable to guess from context and to confirm guesses after the reading.
Each student makes a mind map summarising key information. They will use this as speaking notes when they share the information with a student from the other group.
4. Pair interactive task
When the students in both groups have finished reading their text and making their mind maps, each student pairs up with a student from the other group. They then take turns to tell each other the information they have just read, using their mind maps as speaking notes. The teacher tells them not to read from the text or look at their partner's text, but does encourage them to ask their partners to repeat or rephrase information when necessary.
5. Teacher clarification
After the reading and sharing of information, the teacher draws attention to new vocabulary and grammar and clarifies any remaining uncertainties.
6. Pair mind mapping
Working in their pairs, the students combine their information to make a joint mind map summarising the full text. The teacher circulates, helping with vocabulary and encouraging the students to kōrero Māori. This mind map is kept safe, as it will be used later, with additional information, in the presentation.
7. Inquiry
Each pair of students discusses possible lines of inquiry. Topics for inquiry could include:
Te Rauparaha and/or Te Pohotīraha
Notable tīpuna of their own iwi
Traditional Māori beliefs
The history of Christianity in Aotearoa
Māori influences on current religious practices in Aotearoa.
The pairs of students form a written question on which to focus their inquiry and then each student makes an inquiry plan that identifies how they will seek answers to their question. This might be through reading (using the library or Internet), museum visits, or interviewing whānau members or kaumātua. While the teacher provides support and oversight, the students undertake at least part of their inquiries for homework. They make written notes in which they record keywords and simple sentences in te reo Māori, and they bring these notes to school.
8. Preparation of information for presentation
The pairs of students pool the results of their inquiries and discuss how their findings can be incorporated into their joint mind map. This involves discussion and the synthesis, prioritisation, and organisation of information.
9. Presentation
Each pair of students joins up with another pair. Within these new groups of four, each pair of students takes turns to present their information, in te reo Māori, to the two new members of their group.
10. Reflection
The students have 10 minutes to reflect individually on what they have learned from this cycle of learning. They briefly record the following information in te reo Māori:
Tuhia ngā kupu hou. (List the new vocabulary you learned)
Tuhia tētahi whakaaro hou i akongia e koe. (Write one new thing you learned from your own inquiry.)
Tuhia tētahi whakaaro hou i puta mai i tō hoa mahi. (Write one new thing you learned from your partner.)
Peer assessment follows, focusing on the attainment of personal goals and setting goals for further learning.
Additional tasks and activities
Depending on their students' needs and interests, teachers may like to select from some of the following tasks and activities:
Study and create tukutuku panels and/or kōwhaiwhai designs. He Wakahuia Toi Māori: Māori Visual Culture in Visual Arts Education Years 1–6 (Ministry of Education, 2007) could provide a valuable support for this activity.
Find information about Māori design influences in or on church buildings and other buildings in your area.
Observe, discuss, and write about European influences on Māori architecture, including wharenui and other marae buildings.
Design a classroom or school with combined Māori and European design features.