You are here:
Hei Waiata, Hei Whakakoakoa
Hei Waiata, Hei Whakakoakoa
Hei Waiata, Hei Whakakoakoa has been developed to support the teaching and learning of te reo Māori in English-medium schools. It has been aligned with Te Aho Arataki Marau mō te Ako i Te Reo Māori – Kura Auraki / Curriculum Guidelines for Teaching and Learning Te Reo Māori in English-medium Schools: Years 1–13.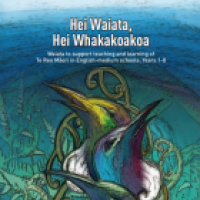 Hei Waiata, Hei Whakakoakoa consisted of a CD and an accompanying book. The CD is now a digital download in MP3 format. There are forty-six tracks - a mixture of waiata and haka. The book contains curriculum links, activities, notes about the waiata and haka (including translations and meanings), lyrics, and song sheets (manuscript music).
Individual tracks from the CD or MP3 may be duplicated for classroom use. The lyrics and song sheets may be photocopied or printed for classroom use. The song sheets can be used for accompanying performances, practising playing an instrument or singing from a score. The song sheets are always in the same key as the waiata on the CD or MP3.
See the bottom of this page for downloads of the waiata, book, individual songsheets and teacher guides.
The waiata get progressively more complex as you go through the tracks. If you want to develop your confidence in teaching these waiata and haka, regardless of the age of your students, you should start with the earliest ones. 
Many of the waiata and haka have actions that can be performed. These actions can vary from iwi to iwi, rohe to rohe, and school to school. Teachers, students, schools, and the community need to take ownership of the actions they decide to use within their own context. To find out about the actions if you don't already know them, you should consult locally. This can be initiated by asking the students, other teachers in the school, whānau of students, or identified kapa haka enthusiasts in the community.
The performances and arrangements in this resource are models of how the melodies and pronunciation sound and are provided as a guide, feel free to create your own arrangements and sing these waiata in a way that suits your students. Māori is a culture where waiata and haka were learnt orally, so it is appropriate for students to learn some of the waiata and haka in this way.
The waiata and haka in this collection can also be used to support the integration of Māori language and culture into other learning areas of the New Zealand Curriculum, such as the arts, social sciences, technology, and health and physical education.
Songbook download
Waiata downloads
Copyright © Crown 2009. All rights reserved.